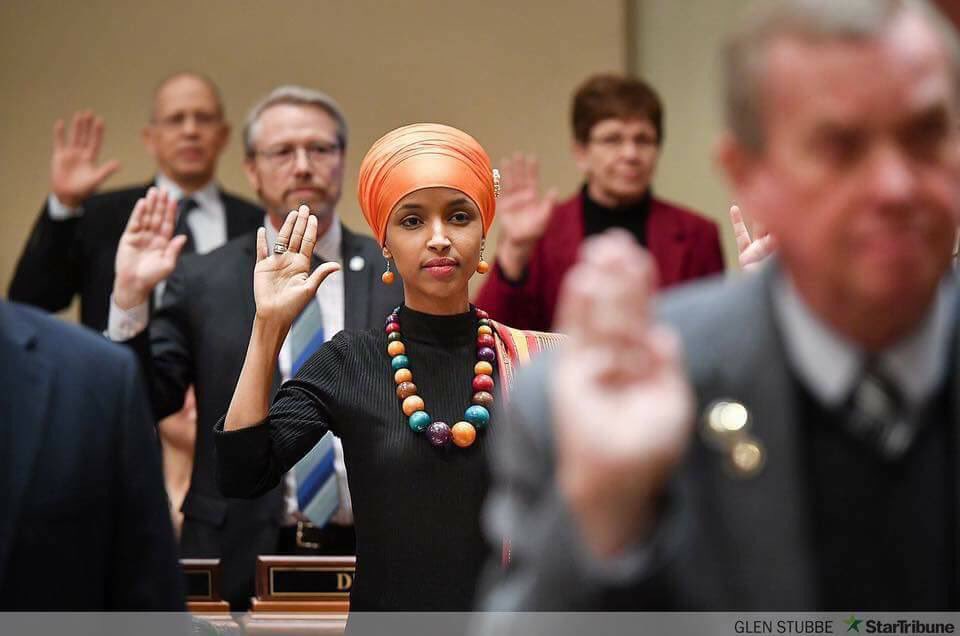 Ilhan Omar, first Somali-American State Legislator
On Tuesday, Ilhan Omar made history in the United States in more ways than one when she was sworn into the Minnesota House of Representatives: She became the first female Muslim and Somali-American legislator.
Omar, who serves House District 60B in Minnesota,

held the Quran

during her swearing-in ceremony, becoming the second person to do so after Minnesota Rep. Keith Ellison, the first Muslim U.S. congressman and contender for DNC chairmanship.
One photo, in particular, shows just how powerful this moment was and exactly why representation matters in the political system today. In this photo, Omar is seen standing tall — donning colorful accessories and her bright orange

hijab

— among a sea of white faces. This is a historic sight that doesn't come too frequently for young women of color and Muslim Americans, especially in politics.
The U.S. Congress proves just how
white, male and Christian dominated
some of our political institutions are. The 115th Congress, which was sworn in on Tuesday, is
t

he most diverse yet
. Despite this, Congress is still about 80% male, around 80% white
and about 8% are non-Christian
. This is far from representative of the U.S. when, according to the
Washington Post
, more than half of Americans are female and white non-Hispanics only make up about 63% of the country's population.
The new Congress includes a record number of 21 women. In addition, women of color serving in the U.S. Senate
quadrupled this year
with Sen. Tammy Duckworth (D-Ill.), Sen. Catherine Cortez Masto (D-NV) and Sen. Kamala Harris (D-Calif.) inducted to the U.S. Senate joining Sen. Mazie Hirono (D-HI).